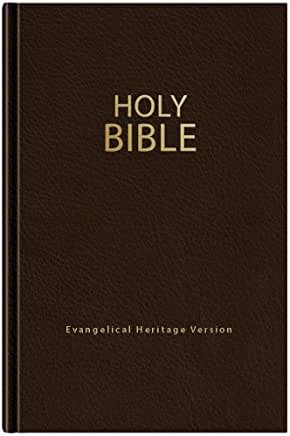 First: What is the Evangelical Heritage Version® (EHV®)?
In case you haven't heard of the EHV yet, EHV stands for the Evangelical Heritage Version.
Our translation is called Evangelical because its highest goal is to proclaim the good news of the gospel of salvation through faith in the atoning work of Jesus Christ, God's eternal Son. Though there are many topics in the Bible, all of them are there to serve the gospel of Christ. All of our work in producing and distributing this translation is directed to the glory of God and to the eternal salvation of people's souls.
Our translation is called Heritage because this word looks to the past, the present, and the future. Heritage expresses our respect for the generations of Christians and for the faithful translators who have passed the Bible down to us. We are aware that we in the present are building on the foundation which they have laid. As the old saying goes: We can see so far because we are standing on the shoulders of giants. The term Heritage also looks to the future. The gospel is a precious inheritance that is to be passed from generation to generation until Christ returns. It is our prayer that this translation will have a part in that great mission which the Lord has left for his church. Our goal and motto is expressed in the hymn verse:
God's Word is our great heritage
and shall be ours forever.
To spread its light from age to age
shall be our chief endeavor.
Through life it guides our way.
In death it is our stay.
Lord, grant, while worlds endure,
we keep its teaching pure
throughout all generations.

To this end, our goal is to produce a balanced translation, suitable for all-purpose use in the church.
In many, many ways, our Wartburg Project team utilized technology to translate, communicate, edit, and review the text of the EHV. It was a project that really leaned on technology. We virtually never had face to face meetings, yet we were in constant contact and could all look at the text. We were able to gather a team of more than one hundred participants to help produce the EHV. More information is available on our website.
Two of the most popular locations on our website are the FAQs and the Lectionary readings.
The FAQs answer many questions we have received about the Bible text, etc. The FAQs are visible in two ways: by basic topic, or by number.
The Lectionary readings have provided EHV text for Scripture lessons. These were provided free of charge and used by many congregations around the world. Here's a link to lectionary options.
We used a Facebook page to promote the EHV, particularly with putting passages to pictures and Bible history lessons. Many examples can be seen on our Facebook page. We were sometimes able to reach more than 50,000 people all around the world. Sometimes we were quite surprised by how far those went. Here's a link to the Facebook page.
The EHV Bible has been selling very well through Northwestern Publishing House (NPH). There is a hardcover edition and a leather bound edition of the full Bible.
The EHV Bible is available in several digital versions. We are working on placing EHV text in more apps and digital resources.
Kindle and Nook editions of the EHV are now available.
We are all set with Logos, but they are still formatting it as of this writing. It is available for pre-order now. We hope it will be available by the end of October 2019.
The full EHV is now on BibleGateway!
We expect to make EHV available on Bible Works, but that will be a special internal project because Bible Works is out of business. Yet we have users who still enjoy it.
EHV text is on the Dove Bible app. Details are still being worked out about placing the full Bible on there.
Among other possibilities after these are the following:
Pocket Bible
Google Play
Bible Hub – online
Accordance
Cadre
Tecarta
Bible.com
QuickVerse
Biblia.com
Olive Tree
My Bible Connection
YouVersion
– which involves ParaText, which we do not have yet.
The content for our Study Bible is already done; we have written all of the notes and edited them. The EHV Study Bible is now beta testing. The first formats will be a computer edition in which the text and note/maps/pics scroll side by side on a computer screen. So far it does not run in Apple or Linux. Predicting the arrival dates for electronic products is always hazardous but we hope it will be available in 2020.
EHV Study Bible notes will be available soon in a LOGOS notes module. We are exploring several ways to make the EHV Study Bible available digitally; we are working on this with the Microsoft store. We are often asked if there will be a printed edition of the EHV study Bible (similar to the Concordia study Bibles). We would love to see this happen! For there to be a printed version of the EHV Study Bible, what is needed would be...
more sales or
convincing a publisher that there is a market for it or
receiving significant funding for this purpose.

We are open to having other publishers attach their study notes to EHV text. Having other publishers utilize EHV text with their study notes could be one way to reach more readers with the EHV Bible. We certainly want to reach as many readers as possible.

There has been a lot of interest expressed in audio, but so far we do not have a specific commitment. We do plan to have an audio version, but we've not yet finalized the plans. We've had many volunteers offer to read the EHV for an audio version. Our leadership has not yet made any decision on the audio other than that we are going to do it.

The first edition (hardcover) of EHV sold out very quickly, so there was much more interest than our publisher was expecting. There is an ELS Catechism using EHV text (mainly sold on Kindle) and now a WELS/NPH one that is available for school this fall.

We are looking forward to the EHV Bible finding usage in many more ways. Maybe you will come up with a great idea!

[Editor's note: Some of the challenges involved in producing the EHV were discussed by Prof. Brug in the 2016 GOWM Conference.]
---
Translate this page into your language
Return to original language with "show original" button at top left.