Yes, I know, there are many problems with the Internet. I could write an entire article about this alone and I've had to learn to be careful of many unsavory things. I've encountered things like these:
Stolen Picture - a scam website Kill Your Stutter, (http://killyourstutter.com/) dishonestly promising a cure in 10 minutes, featured a made-up testimony by "Albert Sheppard of Austin, Texas" which used a photo lifted from the faculty page of a professor at the University in Michigan.
Spam - there are days when my spam folder is bigger than my email box, but I have to be careful because sometimes the spam folder contains important legitimate messages.
Phishing - I could be very rich one day! An email from a Nigerian told me I was awarded a lot of money.
Desperate email from a "friend" and another that called me "Grandma" who "had his money and passport stolen" and "needed money to get home."
Threats - someone said he had my password and sent me an email apparently from my own account demanding $3000 or s/he would post pornographic pictures that I've been looking at (I haven't) to everyone in my address book.
Spreading misinformation including hate and fake news. Be careful of any messages that say "share this with all of your friends." Check them on Snopes.
Attachments with malware and viruses.
Cyber stalking.
Pretending to be someone else and luring minors away.
Cyber bullying - some leading to suicide.
Pornography - there are people I know who have served time as "sex offenders" for connecting to child porn sites.
People copying my online materials without attribution or permission.
Hitting the send button before realizing my email was going to the wrong, unintended person.
Plagiarism.
It is frustrating not being able to delete or correct some things I've written or others have written about me!

There are other problems too:
I've had to get computer glasses (but also good for playing the piano)
The Internet is a time eater - I spend too much time
My spelling has deteriorated and the computer changes words I've typed that I don't catch.
I can't keep up with new "stuff" and frankly have decided not to. I'm still stuck in the Facebook Generation - don't do Instagram or Snapchat but do look at pictures my grandchildren have posted.
I don't have the income to keep my websites high on search engines and have experienced problems with my Twitter account that I don't know how to fix.

Changes have caused a LOT of problems and extra work:

Minnesota State University changed my email account several times. They changed their website URL which means my URL changed too and people who linked to my materials can't find them any more. They've moved parts of my materials to a different server which created huge problems. Many URLs I've linked to on several of my professional sites have changed or disappeared. Sometimes I can find the site again in the WayBack Machine (http://web.archive.org/). Sometimes I simply have to remove dead links to what had been valuable resources.

People who have written articles for me have asked me to delete or update information or remove their name. That's hard to do but I do it.

Perhaps there are several things you DON'T like about the Internet, too.
But, surprisingly, I still love the Internet!
Here are a few quick examples of why, and one longer example I was led to by another interesting medium, a 1955 Comic book!
I can watch live streaming of our church services on snowbound days at home, 30 miles from our congregation or over 1000 miles away in a McDonald's when we are traveling South in winter. Sermons are also archived or available as Podcasts.
I can start my each day with a short Bible passage, hymn and prayer at the beginning of my personal devotion and listen to short devotions from the pastors from my church also available on YouTube.
I can listen to some of Tom Kuster's (my husband) archived chapel talks by searching for "kuster" as the preacher.
I can find hymns (words and music) that I've loved on Hymanary.org and listen to the Bethany Lutheran College choir records archived in the Bethany website.
I run a very enjoyable Madison Lutheran School closed Facebook group currently containing 90 former students of the school I attended for 8 years. This Synodical Conference school served many ELS, WELS, and LCMS families from 1942-1965. All of those who were first graders or had German had Esther Buchholtz (Hillmann) as a teacher. A much-loved teacher, the stone marking her grave says "Teacher of God's Children." October 8, 2019, I presented an expanded version of a 2017 GOWM conference paper at an OWLS convention in Galena, IL. The presentation on "Traditional Technology" included many ways a Gospel message is spread, even messages from tombstones. One illustration was Mrs. Hillmann's tombstone (formerly Miss Buchholz) who was a wonderful witness of her love for Jesus throughout my years at Madison Lutheran School (1950-1958) and beyond when she visited me the morning of my wedding. That picture prompted an audience member to share that she had Miss Buchholz when she attended MLS the first year the school opened (1941-42) and also remembered her influence through her life. Every person who attended MLS the 24 years it was open (over 1000 students), remembers the love Miss Buchholz had for her students and the Gospel message she shared daily as our teacher and throughout her life.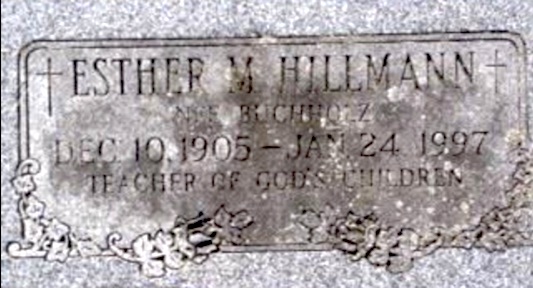 I've used Internet search strategies for finding former students. Most frustrating is finding people who either don't use Facebook (it's necessary for joining the group) or don't even have a computer. Hardest to find are the many of the girls (now women) because most changed their names when they married. Sometimes I can locate a brother who also went to MLS, find newspapers online with their engagement or wedding announcements, or obituaries or graves (http://findagrave.org) of their parents. Other helpful strategies include checking Ancestry.com where I've found family groups to contact, finding a friend or sibling who still has contact, or asking Peter Behrens, the son of the MLS principal for many years. I've found many former MLS students and helped many make connections with the former best friends they've lost contact with over the years. I've also found obituaries of several of the students I remember well. Since the school opened 77 years ago and closed 54 years ago, the youngest alumni would be 59 and the oldest 85!
How misfortune turned into a unique "media treasure"
I can get lots of quick (and if I'm careful) reliable information about many topics online. One recent example:

The rogue waterpipe
A frozen water pipe broke in our lower floor, and sprayed water on several boxes of stored vintage comic books I had planned to sell some day. One box not damaged contained (among other treasures) a copy of The Story of Jesus, a 1955 Classics Illustrated Comic, the first Classics Illustrated special edition that originally cost 35-cents and had been owned by Pattie Scheid (Obie) when she was 9 years old, living in New Ulm.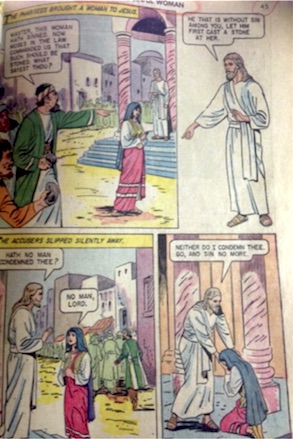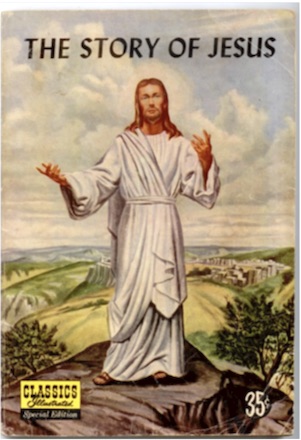 A second copy of The Story of Jesus in another box ended up totally soaked and in the garbage. BUT I still had one, preserved in a plastic jacket. Looking at the old comic, I was again impressed by the illustrations by William A. Walsh and especially by how faithfully it told about the life of Jesus. I had never looked up the author of a comic before but when I realized how accurate his portrayal was, I decided to do that. I discovered Lorenz Graham who, during the 1950s, was hired to write adaptations for Classics Illustrated comic books.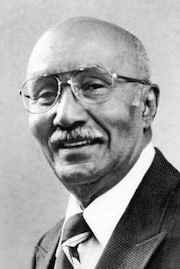 Lorenz Bell
Graham
Lorenz Bell Graham was born January 27, 1902, in New Orleans and died September 11, 1989, in Los Angeles. His parents were Etta (Bell) Graham and Rev. David Andrew Graham, a Methodist minister who served churches in New Orleans, Detroit, Indianapolis, Chicago, Nashville, Colorado Springs, and Spokane. In 1924 Lorenz felt called to become a missionary in Liberia where he taught at Monrovia College, a Christian boys' school and where he met his wife, Ruth Morris, a missionary teacher. His biographical information online reports:
Going to Africa changed Lorenz Graham's life. He realized he had gone with a false concept of what African people were like. He decried the fact that all he had read or seen had described Africans in stereotypical terms as savages, at best stupid and amusing, at worst vicious and depraved. While in Africa he decided that he would become a writer and write stories that would describe Africans realistically as he was coming to know them and their lives.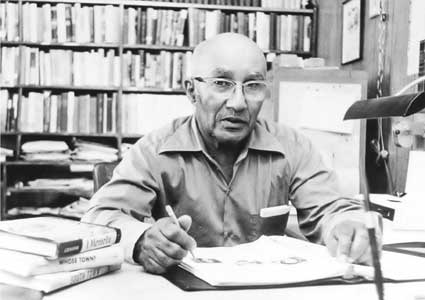 Graham in his study
There is no movie about Lorenz Graham and no modern media by or about him other than his books. I ordered his seminal work from Amazon and was spell-bound. The "Town" Series: South Town, North Town, Whose Town? and Return to South Town were published from 1958-1976.
The easy-to-read series "chronicles the life of an African American youth as he journeys from adolescence to adulthood and experiences racism starting in the 1950's. Grahams's sensitive portrayal of his characters, showing how they led everyday lives, made him a pioneer in his field and earned him the title, 'Dean of African American Literature.'"
I would love to see a movie about Lorenz Graham and another retelling the Town series. Graham's exemplary life and the Town series would both make excellent Christian movies. The four books are at a suitable reading level for middle school students and interesting for adults who observe the current state of race relations and those who lived through the civil rights era.
"South Town and North Town were the bookends to a small library which I used to raise a teenage African American boy....The Graham books were so accessible that I noticed those were the only two books my son refused to lend out and in fact kept privately secreted under his bed." Maya Angelou
I never would have discovered this remarkable man without a broken pipe that ruined several boxes of vintage comics but spared an interesting traditional medium, a 65 year old comic book by Lorenzo Graham, The Story of Jesus, combined with a modern activity, an extensive internet search.
Those are some reasons why I can still love the internet.
---
Translate this page into your language
Return to original language with "show original" button at top left.